OUR MISSION
Empowering Women Leaders
The Harvard Law School Association Women's Alliance Network is an organization for the women graduates of Harvard Law School where they can come together to foster community, networking, and continuing education. One of the primary goals of the HLSA Women's Alliance Network is to increase the presence of women in positions of power and leadership. Women first gained admission to HLS in 1950 and now comprise at least half of each Harvard Law School class. Today, women play an essential role within the HLS student body, administration, and faculty. Despite great progress, women continue to be underrepresented in senior levels of the profession. The HLSA Women's Alliance Network aims to forge connections across the tremendous network of HLS alumnae with the goal of advancing the professional goals and achievements of HLS alumnae.
OUR HISTORY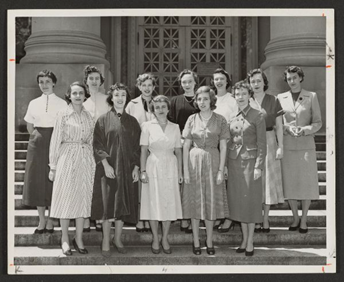 HOW OUR PAST IS SHAPING OUR FUTURE
The HLSA Women's Alliance Network was founded in 2010 with the support of the Harvard Law School Association. The group originated at the initiative of Sharon Jones, HLS Class of 1982, who founded the HLSA Women's Alliance of Chicago. Around the same time, HLS alumnae in Southern California established the HLS Women's Career Advancement Initiative. In 2012, under the leadership of Stacey Austin '04 and Lindsay Blohm '06, these efforts combined to forge the global HLSA Women's Alliance Network, which has expanded to over 15 chapters worldwide. In 2015, the HLSA Women's Alliance incorporated as a 501(c)(3) entity, emphasizing its educational mission.
First Class of Women HLS Graduates–1953
---
Are You a Harvard Alumnae Looking to Make a Difference?
Let's Take Action Together!