Welcome to the HLSA Women's Alliance!
Our Mission
The Harvard Law School Association Women's Alliance is an organization for the women graduates of Harvard Law School where they can come together to foster community, networking, and continuing education. One of the primary goals of the HLSA Women's Alliance is to increase the presence of women in positions of power and leadership. The Alliance will provide an avenue to achieve this goal by offering a forum for discussion, networking, and mentorship and by encouraging activities that will contribute to the professional advancement of HLS alumnae. Learn more...
Our Commitment
As an organization, the HLSA Women's Alliance promotes, encourages, and develops the power, opportunity, and leadership of HLS women. To do that, we commit to:
Provide a forum for mentorship, support, perspective and inspiration of HLS women.

Build connections and create a strong network of HLS women who are committed to helping each other.

Provide knowledge resources.

Create an environment for women to thrive.
Upcoming Events
Upcoming Events Below
2 days away
12:00PM - 1:15PM Thu 29 Sep 2022, Pacific timezone

Join the HLSAs of San Diego, Orange County, Los Angeles, and Northern California and the HLSA Women's Alliance for a practical session led by an expert panel on Non-fungible Tokens (NFTs). Zoom panel, registration required.
Explore our site
Virtual Events
Social distancing requirements have introduced an opportunity and need to convene virtually. Check out the

Virtual Resource Library

for

guidance on hosting digital events.
HarvardKey

HarvardKey is a secure login and password to streamline your access to several online alumni tools and benefits.
Visit

key.harvard.edu

to claim your HarvardKey today.

Need personalized help? Contact the HLS HarvardKey support line at +1 617-495-5631 or

alumrec@law.harvard.edu

.
Amicus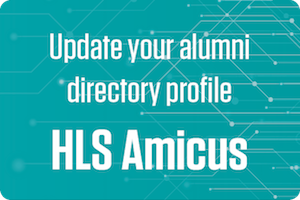 HLS Amicus is a community building tool, featuring an alumni directory, with advanced search and messaging capabilities.
Alumni Feedback
We want to hear from you...
Help us to build a better HLSA Women's Alliance Let us know what you would like to see from your local HLSA Chapter. Speaker events, networking reception, casual happy hours?
info@womensalliancenetwork.hlsa.org